April 2019
First details are emerging for Ken's next book, MIASMA. The premise for the book, featuring Ken's enduringly popular character, Dr. Steven Dunbar, is as urgent as it is contemporary. As the writing comes to completion Ken has posted a blog on Good Reads offering an insight into the terrifying origins of this important new work. Read Ken's blog here : https://www.goodreads.com/author_blog_posts/18209115-new-steven-dunbar-book-miasma
November 2017
At last, the waiting is over and we are very happy to announce that Ken McClure's new book THE DEVIL'S LANDSCAPE will be released on December 14th
To learn more about the new book - the latest in the Dr Steven Dunbar series - follow this link: The Devil's Landscape
The book will be available via Amazon in both paperback and e-book format. Pre-orders are open now at this address: http://amzn.eu/92JhOXT
March 2017
Good news for those readers who prefer the feel of paper in their hands. A number of McClure titles that have long been out of print and, therefore, only available in digital formats, are now, once again, available in paperback, exclusively through Amazon.
Visit the Ken McClure page on Amazon to find your favourite titles and complete your collection
CLICK HERE for Amazon's Ken McClure page
August 2016
Things may have been a little quiet of late, but rest assured that Ken is presently working hard on completing a new Steven Dunbar thriller, THE DEVIL'S LANDSCAPE. More news on that soon, but here, in the meantime, is a link to Ken's most recent blog at Good Reads. It is a troubling article on ebola and makes for very uncomfortable reading: Good Reads: Thoughts on Ebola
June 2015
Ken recently contributed a lengthy blog to Good Reads. The post tackles book snobbery and the debate between books and e-books. You can visit the entry directly on the Good Reads site by following this link : http://www.goodreads.com/author_blog_posts/7599835-books-versus-e-books
The Steven Dunbar thrillers are proving enormously popular in countries all over the Russian Federation with Ken spending an afternoon each week replying to email questions and requests from enthusiastic readers.
Electronic versions of THE SECRET are now available on all platforms although a paperback of this title has not been released. All 24 of Ken's titles are now available as e-books on all popular platforms.
Italian publisher Miraviglia Editore has released the first two of 5 McClure titles contracted for in the Italian language. They are PESTILENCE and Il CONDICE DI PANDORA. Both are available as paperbacks and e-books.
May 2013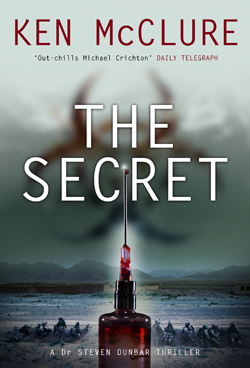 Details of the new Steven Dunbar chiller, THE SECRET, are coming to light. The hardback will be released on September 5th and will be published by Birlinn. We'll update the site soon, but in the meantime you can read the blurb on the books Amazon listing: http://www.amazon.co.uk/dp/1846972612
Hypocrates Isle was published in paperback this month.
Italian publisher MIRAVIGLIA EDITORE S.R.L. has contracted to publish five McClure titles in Italian. We'll post soon on what titles are to appear, and in what order.
Ken McClure will be reading at Carnoustie Library on Saturday June 1st – Angus Libraries Reading Group Day. 2-3.30pm.
February 2013
A paperback of Hypocrites' Isle will be released by Birlinn/Polygon in May.
The big news for Steven Dunbar fans is that the new Dunbar thriller, THE SECRET, the 10th title in the series – will come out in the Autumn. More details soon!
Public Appearance: Ken McClure will be reading at Dunbar Library, East Lothian on 7th March at 7.30pm
September 2012
It has been some time since the last update. Apologies. Here are some recent items of news...
July 2012 has seen the publication of Lost Causes in paperback.
All 23 McClure titles are available as Amazon Kindle books, and 17 have been made available on Kobo, with the remaining titles to be made available by the end of 2012.
The Steven Dunbar series of books are currently being released in Finland (by Moreeni) and the Russian Federation (by Veche)
Look out for a new McClure interview to appear in the third volume of Len Wanner's "The Crime Interviews" to be released by Blasted Heath
And, a word to the wise, negotiations are curently underway regarding publication of a new Dunbar thriller, The Secret. More soon!
June 2011
The new Steven Dunbar thriller Lost Causes was published by Polygon/Birlin earlier this month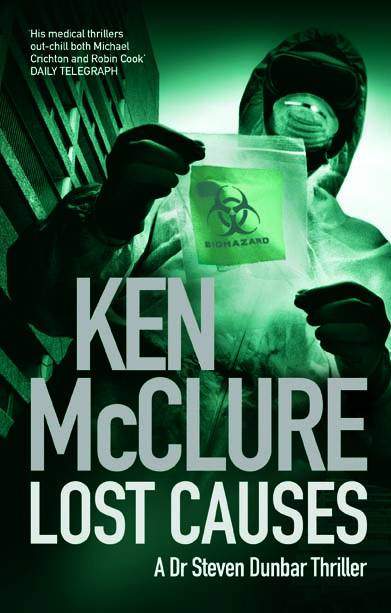 All 23 McClure titles are now available on Amazon Kindle. Donor is presently No 4 in the Amazon UK chart for Action and Adventure (and a very impressive no. 37 overall in the UK Kindle store!)
In response to a wave of enquiries relating to the Steven Dunbar series we have added a new page which lists all Dunbar titles in order of publication. Click here to see the full list.
May 2011
The publication date of Lost Causes has been changed to June 1st, as will the appearance of the paperback of Dust to Dust.
The Steven Dunbar thrillers are to extend their global reach with the first appearance in Russian (publisher; Veche) and Finnish (publisher; Moreeni)
Crisis is to be published in the near future by Macedonia's Prosvetno Delo - bringing the number of languages in which the McClure catalogue has been published up to 25! (Number 24 was Lithuanian when Tyto Alba published HYPOCRITES' ISLE)
There are now 14 Ken McClure titles available on Amazon Kindle - with 5 more eBook titles set to be added by Polygon/Birlin in May
January 2011
The big news to kick off 2011 is that LOST CAUSES, the ninth Steven Dunbar thriller, will be published by Birlinn/Polygon on May 1st. The publication of the new title will co-incide with the release of the paperback edition of Dust to Dust.
Two early McClure titles, Pestilence and The Anvil are now available in the UK and the USA as eBooks in Amazon's Kindle store. More titles will appear in this format throughout the year.
Two new interviews with Ken McClure can be found online:
October 2010
A new interview with Ken McClure has been published online by Suite 101. The interview can be found at this link:
http://www.suite101.com/content/interview-with-ken-mcclure-a296285
August 2010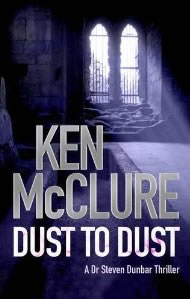 Dust to Dust the latest Steven Dunbar thriller, published by Birlinn/Polygon is now available in hardback. New paperback editions of Donor and Wildcard have also recently been published.
Ken will be giving a talk/reading at West Calder public library on Thursday September 30th at 6.30pm
January 2010
Past Lives will be published in large format paperback on 15th February by Magna
Dust to Dust, the eagerly awaited 8th Steven Dunbar thriller, will be published on May 1st, along with Donor, a reprint of the 1st Steven Dunbar book by Birlinn/Polygon
Wildcard, a reprint of the 3rd Steven Dunbar title will be published in paperback on June 1st by Birlinn/Polygon
Ken McClure will be appearing at Brookwood Library, Bearsden, Scotland on March 22nd at 2.30pm.
September 2009
The hardback edition of White Death has sold out. A paperback edition will be published by Polygon on November 1st.
Look out for Steven Dunbar's eighth outing in the new McClure thriller, "Dust to Dust " due for publication in May 2010. This date will also see the republication of the first Dunbar thriller, Donor. With further reprints from the series to follow.
May 2009
DUNBAR IS BACK!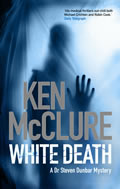 White Death, the new McClure chiiler, featuring Dr Steven Dunbar, will be published by Polygon on June 4th!
Publication has been delayed on the paperback edition of Hypocrites Isle - more soon!
The Lazarus Strain has just been published in large print format
January 2009
WHITE DEATH, the new McCLure thriller will be published by Polygon in the summer!
Hypocrites Isle will be published in paperback by Polygon in the Spring. Some recent reviews of Hypocrites Isle;
"Scrupulously observed and completely persuasive" Daily Telegraph
"The most frightening thing is that research scientist McClure makes it utterly believable" The Scotsman
Ken McClure will be reading at Ralston Library, Paisley, on March 5th at 7pm
November 2008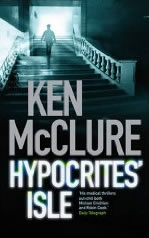 Hypocrites Isle was published last month by Birlinn/Polygon.
June 2008
Ken recently attended the Prague Book Fair as the guest of his Czech publisher, Alpress, where the Czech language edition of The Lazarus Strain was launched and is currently in the Czech best-seller lists.
The English paperback of The Lazarus Strain is due out in the UK on July 31st from Allison & Busby.
An audio version of Eye of the Raven will be available from July from Oakhill Publishing. (CDs or tapes)
The new book, Hypocrites' Isle, will be published by Birlinn/Polygon in hardback on September 15th. - No cover design as yet but available for pre-order from Amazon.co.uk
Older News
The Lazarus Strain will be published as an audio book
(CD/Cassette) on November 1st, 2007 by Isis Audio
Ken McClure will be on a brief Scottish Arts Council sponsored
reading tour of the Scottish Highlands during October.
Confirmed dates;
Inverness Library Oct 23rd 7.30pm
Thurso Library Oct 24th 7.30pm
Wick Library Oct 25th 7.30pm
Invergordon Library Oct 26th 7.30pm
Lochalsh Hotel Oct 27th 7.30pm

The Lazarus Strain was released in June in the UK by Allison and Busby both in hardback and 'airport' paperback. USA editions of The Lazarus Strain and Past Lives will appear in August 2007.
Press for The Lazarus Strain
"His (Ken McClure's) medical thrillers out-chill both Michael Crichton and Robin Cook." Telegraph.
"Swap Britain for the US and this could be the latest Michael Connelly - only it's better." Saturday Sport
"Thriller of the Month" Paul Norman's Gateway Monthly. (June)
"A tense and authentically unnerving story." Morning Star
EXCLUSIVE - Download the full prologue to The Lazarus Strain in PDF format
Audio Books
Past Lives is now available as an Isis Audio book. (cassettes)
The Lazarus Strain will be released as an ISIS audio book later in the year
The Gulf Conspiracy is now available in the USA and Canada - published by Bolinda Audio. (CDs).